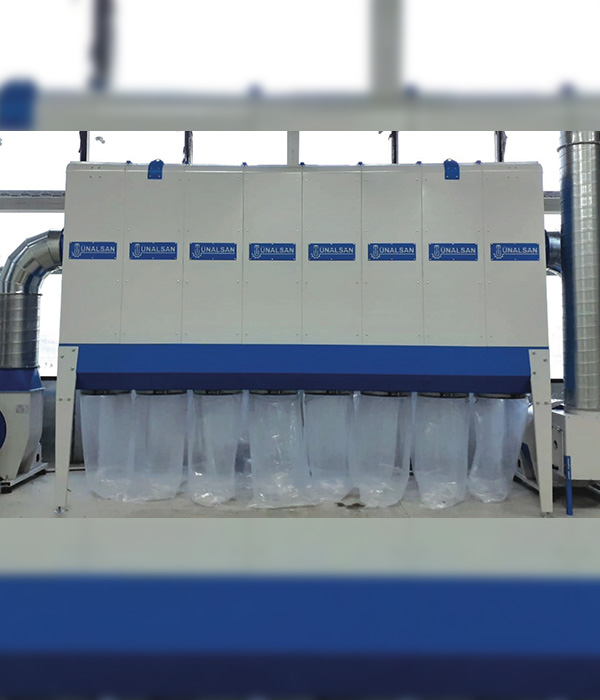 UNS M555
• It is used as a bagged dust collection system.
• The product is produced as modular and each module has a filtration capacity of 3000m3/h.
• Bag change is done simply with the clamp method.
• The clean air coming out of the air discharge chimneys can be given back into the factory in cold weather conditions.
• Maximum 4 pcs. fan can be connected.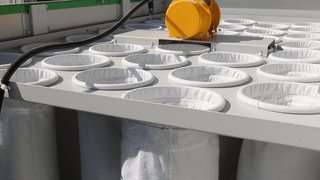 Vibration Motor
The Vibration Motor in our products is timed and activates for one minute in half an hour and provides convenience in filter cleaning.
Powerful Fan System
Fan Systems available in our products are state-of-the-art, powerful and highly efficient special fans.
| Capacity (m3/h) | Code | Dimensions(mm)(Width Lenght Height) | Number of Bags | Number of Vibration Motors |
| --- | --- | --- | --- | --- |
| 9.000 | UNS M552 | 1920x1756x3500 | 6 | 1 |
| 12.000 | UNS M553 | 1920x2342x3500 | 8 | 1 |
| 15.000 | UNS M554 | 1920x2947x3500 | 10 | 1 |
| 18.000 | UNS M555 | 1920x3513x3500 | 12 | 2 |
| 21.000 | UNS M556 | 1920x4100x3500 | 14 | 2 |
| 24.000 | UNS M557 | 1920x4685x3500 | 16 | 2 |
| 27.000 | UNS M558 | 1920x5270x3500 | 18 | 2 |
| 30.000 | UNS M559 | 1920x5855x3500 | 20 | 2 |
| 33.000 | UNS M560 | 1920x6440x3500 | 22 | 3 |
| 36.000 | UNS M561 | 1920x7025x3500 | 24 | 3 |
| 39.000 | UNS M562 | 1920x7610x3500 | 26 | 3 |
| 42.000 | UNS M563 | 1920x8200x3500 | 28 | 3 |
| 45.000 | UNS M564 | 1920x8783x3500 | 30 | 3 |
| 48.000 | UNS M565 | 1920x9370x3500 | 32 | 4 |
| 51.000 | UNS M566 | 1920x9954x3500 | 34 | 4 |
| 54.000 | UNS M567 | 1920x10540x3500 | 36 | 4 |